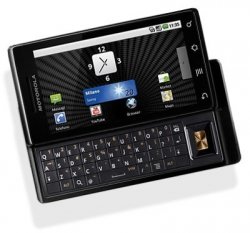 This may sound unobvious, especially for a conservative bunch, skeptical about all that gadgetry, but Android qwerty slider is arguably one of the best productivity/GTD tools a Freelance Translator can get. I am pretty sure, that Windows Phone 7 devices can also do the job with different tools and methods, and so does Blackberry, but I don't know much about those two. And no, iPhone is not an option here. Give it to your kids. In this post we shall cover capabilities of Android phones in context of Freelancer's life, and workflow.
Mail Client with Push notifications
All your customers naturally want you to reply their emails ASAP, and you want to comply. From my experience, reaction time is one of top Translator's qualities from PM perspective, 20 minutes during your business hours is a good figure, and in case if you think that it would be like "conforming to a customer", you are right, that's exactly what it is.
Why Android? Because of its integration with Google Apps, and specifically Gmail. You are getting immediate push notification on incoming emails, the phone can vibrate if necessary. When you receive such notification, you simply swipe the screen, and type your reply. The experience is as smooth as with your regular texting.
Why slider? Onscreen keyboard would make it much slower, and more painful. Trust me, you don't want to try that.
Your phone provides seamless access to your business email when you're away from home, AND when you are on your couch, in your kitchen or your garage. You don't have to attend your desktop to check the email anymore, which is a good thing. Spending 10-30 minutes less per day in front of the monitor can actually help you live longer.
Wi-Fi Tethering
Any freelancer needs a backup Internet connection. Period. If you don't think so, wait untill you loose a customer because of missed deadline. Android phones can tether (share) their 3G connections via USB or Wi-Fi, which means that all your Wi-Fi devices will stay connected during the outage, and switchover will be relatively transparent. I know, that there are lots of smarter/more efficient/cheaper ways to get a backup connection (you can buy a USB 3G/LTE modem, or a router with two WAN inputs), but this one is good enough to stay online, use email, and various online resources. Besides, if you already have the phone, you don't need to buy anything.
The feature is called 3G Mobile Hotspot, and it's available with all newer versions. There should also be unofficial mods/apps with the same functionality.
Getting Things Done
Another great feature is project tracking/GTD across all your devices: tablets, laptops, PCs, etc. At any point of time you may have 4 to 10 and more projects on your shoulders with deadlines ranging from "ASAP" and "in 3 hours" to "in 5 weeks" and "whenever you have time" (the worst of them all). Even seasoned translators make mistakes here, forgetting about very small tasks with very large timeframe, confusing "Noon" with "EOB", and "EOB our time" with "EOB your time" (happened to me recently).
You can register your project emails as events or tasks in Google Calendar, and access your project schedule from all your devices — PCs, tablets, laptops, et cetera. Even from Internet-enabled TV, if you have one.
This will work not only for your projects, but also for other stuff your need to do at some point as a business, or house owner (financial reporting to government, paying your bills, and taxes etc.), and even as a partner/spouse/parent/child (birthdays, and other important dates, school events, you name it). Adding GTD to one's lifestyle requires a major change of habits, and it is not for everybody, but anyone will benefit from using this approach for production, and bookkeeping.
There are plenty of free, and paid apps, that synchronize with Google Calendar. My preferences are Gtasks, and Pure Grid Calendar.
Social Media
I am only starting to use Social Networks for marketing, my Twitter account is like 2 weeks old, so I don't have much to say on the subject. Pretty obvious however, that it makes much more sense, if one maintains their social influence (tweeting, retweeting, answering comments, etc.) on a small screen, and while doing something else, like travelling in a subway, or waiting in some kind of line. There are plenty of native and 3rd party clients for your social accounts. Things to try: Hootsuite, Twitdeck.
Conclusion
To sum up: qwerty phone improves your relationships with your customers, ensures peace of mind as a backup connection media, helps to maintain your schedule, and bookkeeping, as well as to stay away from your monitor. In the end it saves great deal of time. Worth a try, don't you think?
I have probably missed one or two interesting use cases, so comments/additions are welcome. I also encourage WP7 owners to describe their solutions for issues above.